Okehampton Town Council have a number of facilities and services which are provided for use by the general public, including the Charter Hall which can be rented for a wide variety of functions and events. The impressive Council Chamber is available for hire and may be used for civil ceremonies. The Committee Room is also available for hire for meetings. Wifi is available in all rooms.
The town of Okehampton is situated on the northern edge of Dartmoor in West Devon. Okehampton is an ancient town and was initially settled in the Bronze Age. It lies at the confluence of the East and West Okement Rivers from which is takes its name. Okehampton has been described as the walking centre of Dartmoor. It is also popular with cyclists and walkers taking the Granite Way, a beautiful trail from Okehampton to Lydford.
The town has many attractions including the spectacular ruins of Okehampton Castle which date back to Norman times and the beautiful expansive parkland at Simmons Park with leisurely river side walks, ornamental gardens and a Swiss style chalet, multi sports facilities and playing areas for all ages as well as the Parklands Leisure Centre. The impressive tower of St James Chapel (15C) dominates the main street which in times gone by was the Old London Road lined with coaching inns which can still be seen today. The Town Hall, a handsome building with granite façade built in 1685 adds a touch of elegance to the town centre which also boasts a number of vibrant shopping arcades as well as the acclaimed Museum of Dartmoor Life.
Christmas & New Year Office Closure
The Town Hall office will be closed from Monday 24th December to Tuesday 1st January (inclusive) and will re-open on Wednesday 2nd January 2019
Fairplace Toilets, Okehampton
Okehampton Town Council is pleased to be able to announce that the public toilets and garden area at Fairplace, Okehampton is in the process of being transferred from WDBC to the Council's ownership. It is the intention of the Council to keep the toilets at Fairplace open for use.
The Council was prepared to also accept the transfer of the public toilets in Market Street, but the offer was withdrawn recently by WDBC.
Also being transferred is an area of grassland behind Lidl and a strip of roadside verge at West Bridge, which the Council has already been maintaining for several years.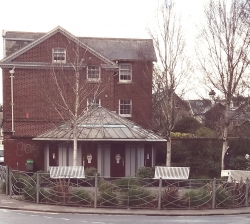 'Free After Three' - December Car Parking In Simmons Park Car Park
In order to support local shoppers and trading in Okehampton, the Town Council have decided that parking in Simmons Park car park will be free of charge on weekdays after 3 pm from 3rd - 31st December 2018.
Parking will also be free on Saturday mornings in December - 1st, 8th, 15th, 22nd and 29th - together with the normal provision for free Bank Holiday parking on 25th & 26th December & 1st January.

Town Councillor Surgery
Residents are welcome to come to the Town Hall to talk to a Town Councillor on the third Thursday of the month between 10 am and 12 noon:
Thursday 17th January 2019
Saturday Coffee Mornings - January & February 2019
If you would like to hold a Saturday coffee morning in the Charter Hall for your charity/local organisation we have a few dates available in January and February 2019. For a fee of £30 the Hall is available from 8.30am to 12.30pm on Saturdays. Please telephone 01837 53179 or contact Hilary@okehampton.gov.uk for details and booking forms.
Temporary Traffic Restriction - Station Road & Klondyke Road from 29 November to 27 December 2018 for The Train to Christmas Town
Devon County Council give notice of temporary traffic restrictions affecting Station Road, Okehampton and Klondyke Road, Okehampton from 29 November to 27 December between the hours of 09:00 and 22:00. Please click here to see full details and map.
Okehampton Town Council (Off-Street Parking Places) Amendment Order - Simmons Park Car Park
Okehampton Town Council proposes to make an amendment to the parking charges in Simmons Park car park - the addition of a new charge of 3 hours: £1.20. Please click to see Amendment Order and proposed change.

Community Police Cadets
If you know anyone aged between 13 and 18 who is interested in becoming a Community Police Cadet, click here for information.