Okehampton Town Council have a number of facilities and services which are provided for use by the general public, including the Charter Hall which can be rented for a wide variety of functions and events. The impressive Council Chamber is available for hire and may be used for civil ceremonies. The Committee Room is also available for hire for meetings. Wifi is available in all rooms.
The town of Okehampton is situated on the northern edge of Dartmoor in West Devon. Okehampton is an ancient town and was initially settled in the Bronze Age. It lies at the confluence of the East and West Okement Rivers from which is takes its name. Okehampton has been described as the walking centre of Dartmoor. It is also popular with cyclists and walkers taking the Granite Way, a beautiful trail from Okehampton to Lydford.
The town has many attractions including the spectacular ruins of Okehampton Castle which date back to Norman times and the beautiful expansive parkland at Simmons Park with leisurely river side walks, ornamental gardens and a Swiss style chalet, multi sports facilities and playing areas for all ages as well as the Parklands Leisure Centre. The impressive tower of St James Chapel (15C) dominates the main street which in times gone by was the Old London Road lined with coaching inns which can still be seen today. The Town Hall, a handsome building with granite fašade built in 1685 adds a touch of elegance to the town centre which also boasts a number of vibrant shopping arcades as well as the acclaimed Museum of Dartmoor Life.
Message from the Mayor of Okehampton
We are living in unprecedented times and, at time of writing, we continue to see enormous and dramatic changes in every area of our daily lives in a remarkably short space of time. The majority of us find ourselves being required to work from home or suddenly without work at all. Our children can no longer go to school and we cannot sit and share a cuppa with our wider family, friends and neighbours.

So, what do we do and how do we respond? It is very easy to get caught up in fear and panic but there is an alternative: let's connect with our loved ones daily by phone or internet. Choose a quiet moment for a daily walk and put a note with our name, address, telephone number and email address through the doors of 3 or 4 of our neighbours in the street where we live. If everyone did that, then everyone would have someone very local to them to call on for a chat or for help. If someone phones you, don't worry that you may not have all the answers - you can offer a listening ear. Open your window, breathe in fresh air and listen to the birds sing. Let's be kind to one another and think well of one another. We are all in this together.

Okehampton has always been a place with a vibrant community and there is absolutely no reason for that to change - we just do 'community' differently for a little while. For instance, if you are out for a walk and see someone at the window of their home, give them a smile and a wave. It costs nothing and will mean the world, especially to those who live alone.

In response to the pandemic, there is a wonderful support group that has been set up called the Okehampton Coronavirus (COVID 19) Volunteer Group which is being run solely by volunteers. They can help with things like picking up shopping, urgent supplies, dog walking, a friendly phone call. If you are unable to get out and don't have a family member, friend or neighbour who can help, then please do give them a call on 07707 565612 or contact them through their Facebook page and they will see what they can do. If you are fit and well, please consider getting involved by offering your services as the more volunteers they have, the more help they can give.

We have our Foodbank which is also run by volunteers. If you find yourself in a financial crisis and need a food parcel, then you can drop them an email at okefoodbank.org.uk If you don't have internet access, then please do ask a friend to contact them on your behalf. If you are able to donate to the Foodbank please do get in touch with them so they can advise you of the best way to do it.

Citizens Advice is not currently offering a face to face service and you can contact them by the phone on 03444 111 444. There is a website where you can find lots of up to date information on all manner of issues. It is citizensadvice.org.uk and there is a webchat facility from the web page.

Most of the Okehampton churches are putting their services online through YouTube and, if you would like to speak to a church minister for some spiritual guidance at this difficult time, don't hesitate to get in touch with them. It doesn't matter in the least if you're not usually a church goer.

The NHS needs all hands to the pump and you can get involved by volunteering to help those who are at the most risk from COVID 19 to stay well. You can find our more here:
https://www.goodsamapp.org/NHS

We owe a huge debt of gratitude to all those volunteers, NHS personnel and key workers who are risking their lives daily to keep us fed and healthy. We are a free thinking and independently minded people accustomed to making our own decisions. So, let's decide to play our part and stay at home; keep in touch with as many people as possible; ask for help when you need it; offer help where you can. Remember to shop sensibly and with consideration for others.

Let's stand together. This will pass. We will get through it.
Stay safe and well my friends.
Best wishes

Cllr Julie Yelland
Mayor
Office Closure
Okehampton Town Council has taken the decision to close its offices in the Town Hall due to the Coronavirus pandemic for an undetermined period of time.
Predetermined Council Policy means that the Council is prepared for emergency situations and for members of staff to work from home in order to maintain services to the best of their ability during this difficult time.
The Council will still be contactable:
01837 53179
Emma James, Town Clerk - townclerk@okehampton.gov.uk
Caroline Ellis, Assistant Town Clerk & Accounts - accounts@okehampton.gov.uk
Hilary Bacon, Enquiries and Bookings - hilary@okehampton.gov.uk
James McGahey, Park-Keeper - parks@okehampton.gov.uk
Information and updates as available will be published on the website, facebook page and in the local press.
Coronavirus
Okehampton Town Council's Emergency Committee met on 9th March 2020 to discuss plans to ensure that the Council can continue to operate and maintain its services, at least at a basic level, in line with its Business Continuity Plan.
Responsibility for vulnerable and elderly people who receive help and support to live in their own homes lies with Devon County Council. West Devon Borough Council have created Volunteer Liaison and Town and Parish Council Support roles within their Incident Management Team to support and follow DCC's guidance, more information regarding this will become available in the coming days.

Casual Vacancy - Okehampton Town Council
Notice is hereby given that a vacancy exists in the office of Town Councillor for the South Ward of Okehampton Town Council.
Unless ten or more electors of the south ward on or before 1st April 2020 submit a request in writing for an election to be held, the Town Council will take steps to fill the vacancy by co-option.
Requests must be sent to the Returning Officer, West Devon Borough Council, Kilworthy Park, Drake Road, Tavistock PL19 0BZ
Hanging Basket Competition 2020
Okehampton Town Council is pleased to launch a new initiative in 2020: an annual hanging basket competition for businesses and dwellings located in the Town Centre (Fore Street, Market Street, West Street, George Street, St James Street, East Street, Victorian Arcade and Red Lion Yard).
Entry to the competition is free and judging of the hanging baskets will take place in mid-July 2020. Prizes will be awarded to the winners. The closing date for entries is 31st May 2020.
Application forms are available here or by contacting the Town Council 01837 53179, townclerk@okehampton.gov.uk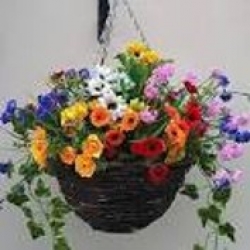 What3words
Would you know how to easily pinpoint your location if you were lost or injured, especially on Dartmoor?
If not, this service which runs from a free app on mobile phones can find your location within a 3 metre square and provide you with a 3 word unique address which you can give to someone to locate you.
Why not download the app and give it a go and see how it works -
https://what3words.com/about-us/
Tel: 01837 53179

Town Council Meetings

Mayoral Musings - February 2020
See the Mayor's February News here
Town Council Office Open Hours
Monday - Thursday 9.30 am - 4 pm
Town Clerk
Mrs Emma James