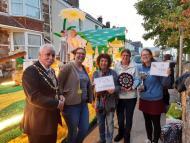 Carnival 2021
Thank you from the Mayor and Mayoress to the Carnival Committee
I would just like to thank Karen and all of the Carnival Committee for organising and executing a first-class carnival this year under difficult circumstances.
I would also like to thank those participating, both young and old, for dressing up and getting involved, and all those organisations that facilitated it's smooth and safe transition through their stewarding and traffic control.
Jill and I, during both processions, were delighted to see so many people with smiling faces. During the course of the evening procession, aside from hearing young voices saying 'Its Father Christmas' or 'Is he a King', the thing we heard the most was the laughing voices on happy faces of cheerful people, enjoying their communities' traditional activities, celebrations and silly antics.

It was great to see some normality again. So, to the committees, participants, stewards, spectators and Okehampton, well done.
Bob & Jill Tolley